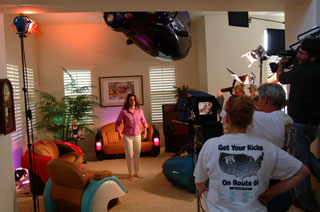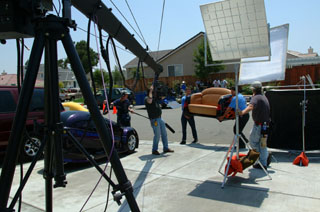 Production done right, with attention to detail that makes post-production a snap. Whether it's an ENG segment shoot, a series, or a full production from script through post, we have the experience to meet your needs and exceed your expectations, every time.
Our experience encompasses Broadcast TV uplink, Golf, Cars, Horses, Agriculture, Cooking Demos, Educational Publishing, Corporate Communications, Image Mag & Meeting Media, Employee Training, Language Localization, Health & Medicine, Spirituality, and the Performing Arts.
Multi-Camera HD location live switching, with full iso recording
Multi-track audio, on location or in studio
Webcasting, with multiple data rates and multiple languages
Weblogs, web splashes & E-book content creation
AV & Corporate Meeting support, including design, animation, staging & custom solutions
Lighting & Grip, with a Sprinter truck outfitted for small-to-medium location work
Post-production & mastering for Broadcast, Blu-Ray and DVD, including multiple languages
Obsolete format conservation, conversion & up-conversion
We have provided services for The Dalai Lama, Master Zhi Gang Sha, The Crisler Biblical Institute, The Golf Channel, CNN, ESPN,TechTV, BBC, PBS, Global TV, Treasure HD, HGTV, Nash Entertainment, GEN TV, All Planet Video, Community Hostpital of the Monterey Peninsula, Salinas Valley Memorial Hospital, The American Lung Association, Pacific Metrics Corp., CTB McGraw-Hill, National Geographic Publishing, Harper Collins, Coldwell Banker, The Pebble Beach Company, Highlands Inn, IBM, AT&T, VISA, Altria, Phillip Morris,The Monterey Film Commision, The Forest Theater Guild, Pacific Repertory Theater, Eyvind Earle Studios, SpectorDance,The Produce Marketing Association, Earthbound Farms, Dole, Ecopia Farms, Tanimura & Antle, McCune AV, TED, Speed Channel, Russo & Steele, RM Auctions, InterCity Trucking, Keehan & Partners,The Wecker Group, Tom Snyder Productions, Toyota, Lexus, Force Computers, Kleiner Perkins, Spirent Communications, Peter Campbell Horsemanship, and many others.
We are properly insured, and more importantly, personally guarantee our work. We look forward to working with you.
---
e-mail:bill@coastviews.com

PO Box 15
Pacific Grove, CA
PH: (831) 622-1600