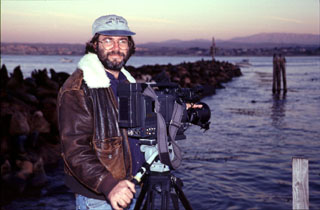 Founded in 1989 by William Roden, New Dawn Studios, specializes in film and HD video production and post for Broadcast, Corporate, Education, Agriculture, Health and Performing Arts. We employ professionals with years of experience and have a strong network of local resources to meet your needs.
With our technical expertise and creative abilities we offer the highest level of service on the Monterey Peninsula. We can produce your project from thought to finish, produce multi-camera live switches with satellite feeds or simply provide the technicians and equipment you need.
Services also include scripting, editing, audio recording, equipment rentals, animation & graphics, webcasting, Blu-Ray & DVD authoring, language localization and multi-language support.
Facilities include an Insert stage with 24-foot wide green-screen cyc, makeup / dressing room, shop andisolation sound booths with telephone and VOIP patches.
---
e-mail:bill@coastviews.com

PO Box 15
Pacific Grove, CA
PH: (831) 622-1600